What's That Food? (pre-assessment)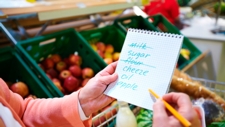 Learn tips for how best to conduct the activity, "What's That Food?" Students take a pre-assessment followed by a hands-on activity focusing on food, food groups, and making food choices for health.
Demonstration slide set for teachers.
Author(s):
Nancy Moreno, PhD, Barbara Tharp, MS, and Judith Dresden, MS.
Showing Results for:
see
Return to Presentation
---
Funded by the following grant(s)

My Health My World: National Dissemination
Grant Number: 5R25ES009259
The Environment as a Context for Opportunities in Schools
Grant Number: 5R25ES010698, R25ES06932