Viruses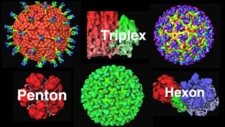 Viruses have always lived among humans, and they killed many millions of people. In fact, without a host, these microscopic parasites cannot reproduce or survive. As scientists discover the chemical rules by which each virus plays, they can begin to control how a virus affects us.
Companion slide set to the video, "Viruses."
Sorry, there are no slides in your tray.
---
Funded by the following grant(s)
Virus images courtesy of Wah Chiu, PhD, National Center for Macromolecular Imaging at Baylor College of Medicine. Funding for the images provided by NCMI, NIH.