Hot Topics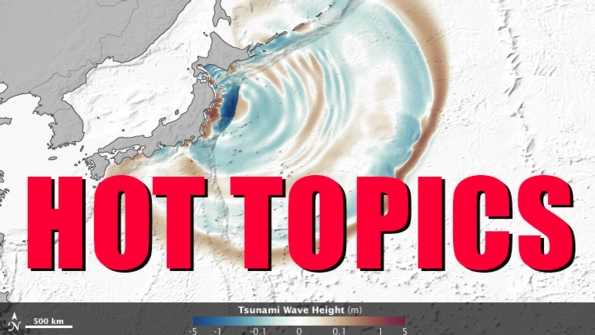 To help you introduce newsworthy biology topics into your classroom, BioEd Online periodically produces short topical summaries and annotated slide sets on science "Hot Topics" that are receiving national attention. Each digital slide set contains slides, speaker's notes, and keywords. Slides can be viewed in sets or accessed individually to create customized presentations, and all slides can be downloaded to, and viewed on computers or mobile devices.
To access the slides, click on a title below or choose a title from the "Hot Topics" menu to the right. (Delete the word, "Slides" from the header in the right-hand column.) If you have questions about how to use the slide sets, visit the Help/FAQ link below or contact us directly.
Slide Set

NASA's Aqua satellite took this image of Japan's Sendai region on February 26, 2011. The satellite's MODIS, or Moderate Resolution Imaging Spectroradiometer instrument. Compare both slides to view the extent of flooding caused by the tsunamis triggered by the March 11 earthquake.