Japanese Earthquake and Tsunamis: Before and After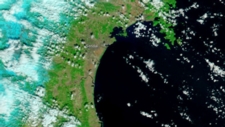 NASA's Aqua satellite took this image of Japan's Sendai region on February 26, 2011. The satellite's MODIS, or Moderate Resolution Imaging Spectroradiometer instrument, used both visible and infrared light to highlight the water/land interface. The false colors used for the image (water appears black or dark blue) make the Sendai coastline clearly visible. Compare both slides to view the extent of flooding caused by the tsunamis triggered by the March 11 earthquake.
Your Slide Tray is Empty.